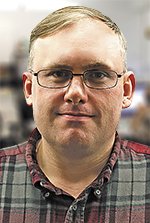 Keith Lobdell
South Bureau Editor
518-585-9173 Ext: 111
Keith Lobdell returned to the Valley News in December of 2010 after spending four years as a reporter with the Whitehall Times. Lobdell previously worked at Denton Publications from 2000-2004. He lives in Westport with his wife and three children.
Recent Stories

A vision created in 1990 is one hurdle away from becoming a reality, bringing new life to the pits and underground tunnels that put Mineville on the map.

The stories and experiences of "the greatest generation" brought a hush over the nearly 300 students at Ticonderoga High School March 26.

Hawaiian students visit local school as part of CFES exchange program
On a day when wind chill made the outside temperature feel below zero, six students from Hawaii made their way around the North Country and through the halls of Crown Point Central School.

A local group of students is hoping to teach their peers about the dangers of bullying and its consequences.

Killer Bees end Moriah season in Class D semifinals
It was a tale of two games for the Moriah Vikings in the NYSPHSAA Class D semifinals against Bridgehampton March 20.

While several teams from the North Country and Section VII have made it to the New York State Public High School Athletic Association's (NYSPHSAA) Final Four since it returned in 1981, no one has been able to match the feat of a group of ball players from a now extinct school who made their way to Syracuse in 1930.

The Vikings earned their ticket to the NYSPHSAA Final Four March 14 with a 59-49 victory against Germantown.

Mineville Oil and Boyea's Grocery are sponsoring a chicken barbecue and Chinese auction for the Mineville VFW Post 5802 Saturday, March 21, from 4 to 7 p.m. at the VFW hall.

Rates at the two campsites along the shore of Lake Champlain here will increase for the upcoming season.
An adjunct professor at the Ticonderoga Campus of North Country Community College received a statewide award in a surprise ceremony Feb. 26.