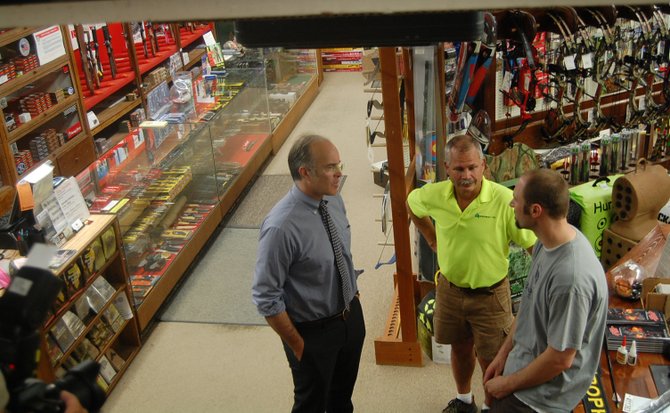 ELIZABETHTOWN — As the race for New York's 21st Congressional District enters the 90-day stretch before voters head to the polls in November, Democratic candidate Aaron Woolf said he perceives what he refers to as a "perceptible ramping up of momentum."
Woolf, speaking to the Valley News after receiving an endorsement from the Central Trades and Labor Council last Thursday in Gouverneur, said his campaign has been focused on traversing the district and speaking with voters and small business owners.
The candidate said he felt moved by the spirit of bipartisanship, something is says is a quintessential North Country characteristic.
Office openings in Potsdam, Glens Falls and Watertown have added to his buoyancy.
"Each appearance seems to have more people than the last," said the candidate, who also has the Working Families Party line. "Rooms full of twenty-something energy."
On Tuesday, Aug. 12, the candidate, who lives in Elizabethtown, released his first television advertisement, a gauzy, half-minute ode to bipartisanship entitled "Walk Across the Aisle."
ADIRONDACK ISSUES
In a half-hour phone interview, Woolf cited several issues that his Republican opponent in the race, Elise Stefanik, also discussed at a meeting of the Adirondack Park Local Government Review Board last month. They include controlling the spread of invasive species, examining the emerging biomass energy industry and developing tourism infrastructure, including roads, broadband and financial boosts for bicycle tourism, that will help bump the economy.
"We need to invest in research that will make renewable increasingly viable," Woolf said. "We can and should be a model for the rest of the state and country."
The candidate said biofuels demonstrate perhaps the most promising growth potential in the region.
Invasive species, he said, threaten the district's tourism, one of its chief economic drivers. Citing past work on a variety of boards — including the Adirondack Council, where he served before resigning to run for office — he stressed the merits of conservation and preservation.
(Continued on Next Page)
Prev Next
Vote on this Story by clicking on the Icon