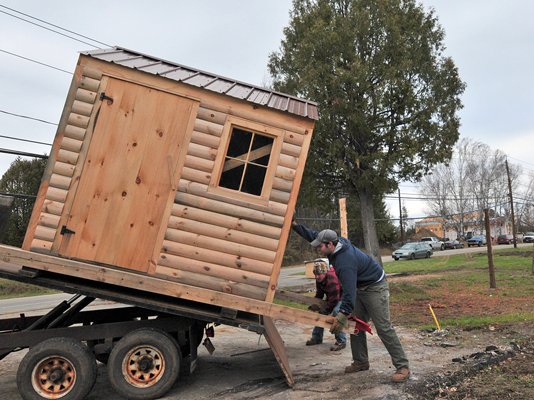 Saranac Lake — Two brand-new wooden sheds were recently installed at the Common Ground Garden sites on Old Lake Colby Road and on Willow Way off McKenzie Pond Road in Saranac Lake.
The sheds, built and delivered by Specialty Wood Products of Bloomingdale, provide much-needed space for storage of tools and supplies. Their use will be open to all members of the community garden.
Purchase of the sheds was made possible by money raised from sale of plants donated by Campbell's Greenhouses in Saranac and by the North Country Healthy Heart Network's Creating Healthy Places program, a grant funded by the New York State Department of Health. In addition, Specialty Wood Products discounted a substantial portion of the purchase price.
Common Ground Garden leases garden plots to individuals, families and groups in two Saranac Lake sites supplied with water and fenced against deer. The sites are maintained by the gardeners, and improvements are usually carried out during spring and fall workdays. Master Gardener volunteers are available to provide consultations whenever needed.
Adirondack Sustainable Communities, Inc. is fiscal sponsor for Common Ground Garden. For more information, go to www.adksc.org. For questions about the garden, contact Ellen Beberman at beberman@verizon.net.
Vote on this Story by clicking on the Icon